Hello and thank you for joining us,
Today's mission is to be so busy loving life that there's very little time left over for worry, fear, or anxiety. Know that soothing sensory tools can help keep overwhelm, stress, or frustration in check when cabin fever, uncertainty, or a bit of impatience from a little too much togetherness starts creeping in. Below are 24 top pick sensory tools that can help alleviate some of that anxiety and stress.
Give yourself a big hug from us and know that we're always here for you.

– Your Therapy Shoppe Family ❤️
*Updated November 2023
1. Chewy Tools
We have 100s of soothing chewy tools that can help decrease anxiety and stress. Handheld chewy tools, chewelry (chewy bracelets, necklaces, and rings), chewy fidgets, chewable pencil toppers, and so much more. These soothing chews can be terrific self-regulation tools for oral sensory seekers, "picky" eaters, finger nail biters, fidgeters, and those who chew on their pencils, hair, sleeves, hoodie strings.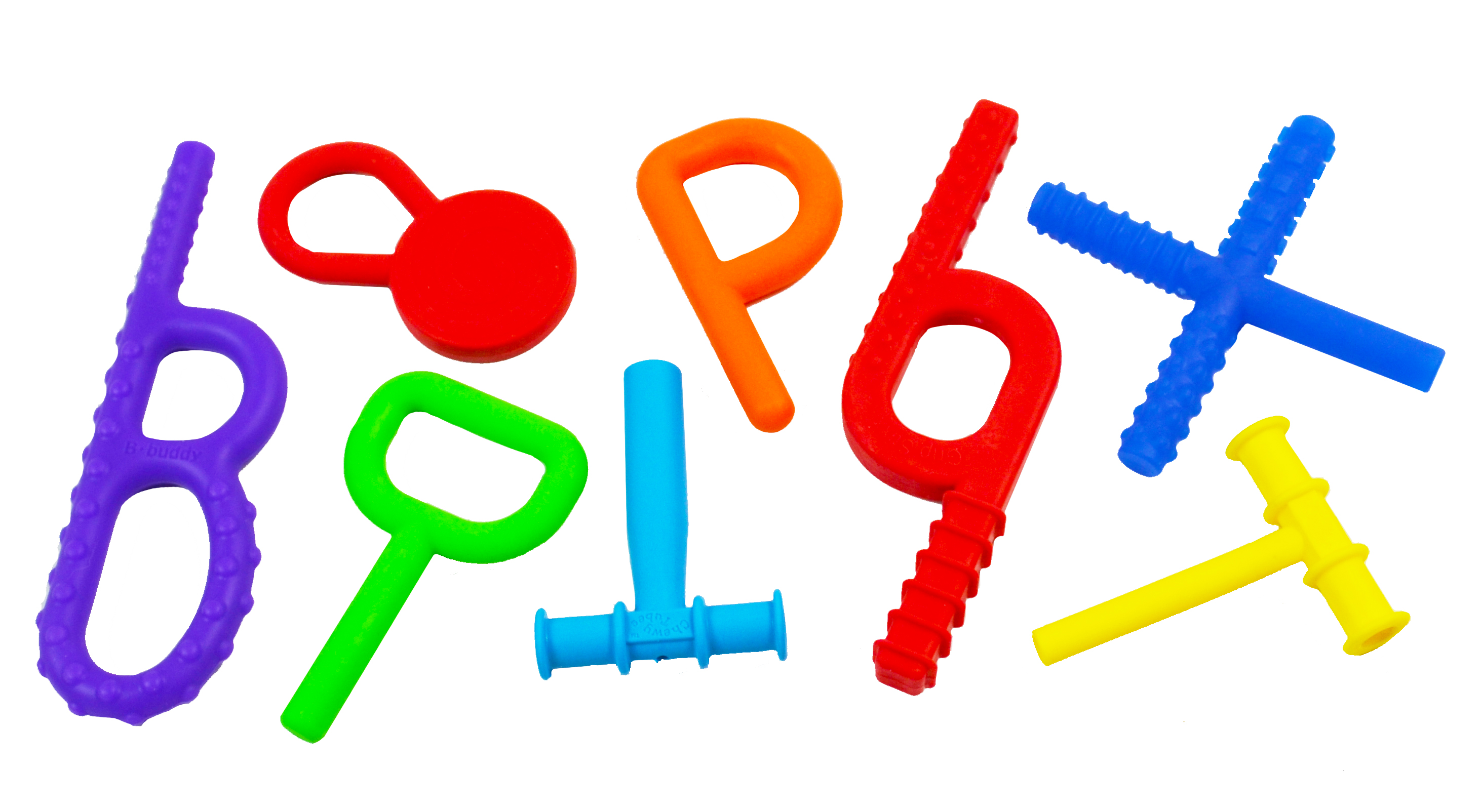 Our silky sensory pillows provide soothing vibrating tactile input. A comfy sensory tool that most sensory seekers find to be very calming and soothing. These pressure-activated pillows require 2 "D" batteries that are not included.

3. Anxiety Relief and Stress Less Scent Inhalers
Experience the many benefits aromatherapy can offer you with these 100% pure essential oil blends that are a scent inhaler about the size of chapstick! Scent Inhalers retain their scents for up to a year. A nice calming sensory tool for sensory diets and self-regulation. Choices include: Stress Less, Anxiety Relief, Mood Lift, Insomnia Relief, Appetite Control, and Study Buddy.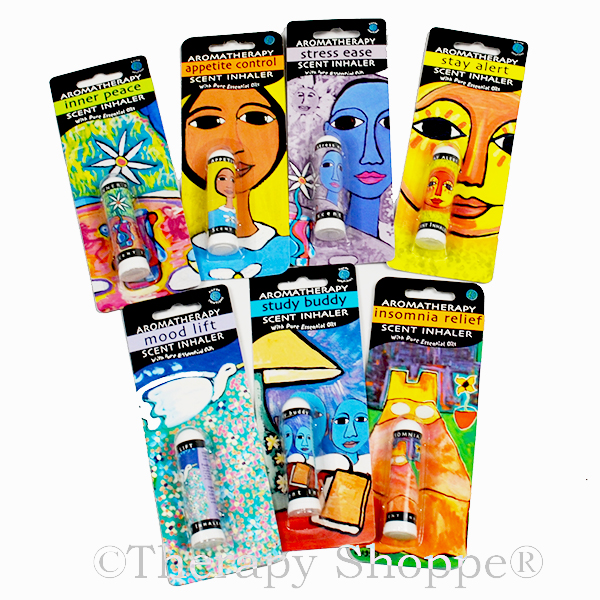 These shiny fidget stones make a fun desk toy or pocket-sized fidget you can take everywhere to entertain yourself with. Excellent for calming or alerting, and for a little stress relief at your desk, during meetings, while traveling, or for homework time.
5. Relax Tangle and Tangle Therapy
Bathed in an irresistible rubbery material, these fabulous Tangle toys are sprinkled with sensory bumpies that provide premo tactile input to fidgety fingers. Tangles snap-apart segments are great for stress relief and finger strengthening, too. The deluxe Tangle Therapy is much larger and twice the thickness for double the fun; both help strengthen finger and improve range of motion. These colorful, silent fidgets are a delight for silently coiling, twisting, and twirling the hours away.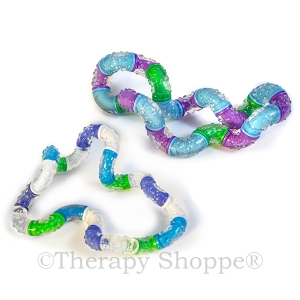 6. Neoprene Stress Gel Fidget Balls
This one-of-a-kind sensory gel ball is covered in a silky soft, smooth neoprene skin that provides wonderfully calming tactile input. Firmer than most of our other fidget balls; this unique stress-busting fidget ball provides a nice deep pressure finger workout. A perfect 2-1/2" palm size.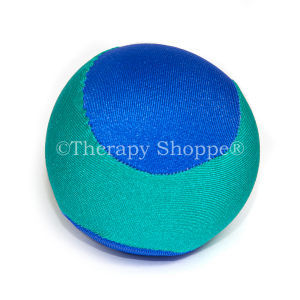 Soft and soothing, classical 50-70 beat music for slowing down, rebalancing, relieving anxiety, and lowering stress. Based on the works of Dr. Alfred Tomatis, this duo CD set features soft and sweet classical music that naturally slows your heartrate and helps "unwind" your mind through simplified harmonies and decreasing tempos. Beautiful piano solos and trios dance lightly with the breathtaking music of Vivaldi, Bach, Mozart, Schubert, Ravel and many other renowned composers. A wonderful set for relaxing both your body and mind.
8. Oooey Gooey Glitter Bead Balls
One of the most satisfying squishy squeeze balls you'll ever have the pleasure of fidgeting with! Ooey Goey Glitter Bead Balls™ have a rubbery skin filled with glitter, water beads, and extra thick gel. These extraordinarily tactile fidgets gently ooze through your fingers as you squish, squeeze, and squash 'em. They feel oooey gooey to the touch, but don't leave any sticky residue behind. Oh yea!

9. 6.5 lb. Soothing Scented Mini Quilts
Soothing quilts scented with just the right blend of self-regulating herbs and spice (lavender, peppermint, cinnamon, and cloves). These extraordinary 20"x40" weighted blankets makes the perfect, mini-sized multisensory throw for homeschoolers, senior citizens, car rides, naps... anywhere. Made of an ultra-soft velvety minkee material that's dotted with 100's of fluffy bumpies on one side, and snuggly flannel on the other. Surface washable. Lovingly made in the USA.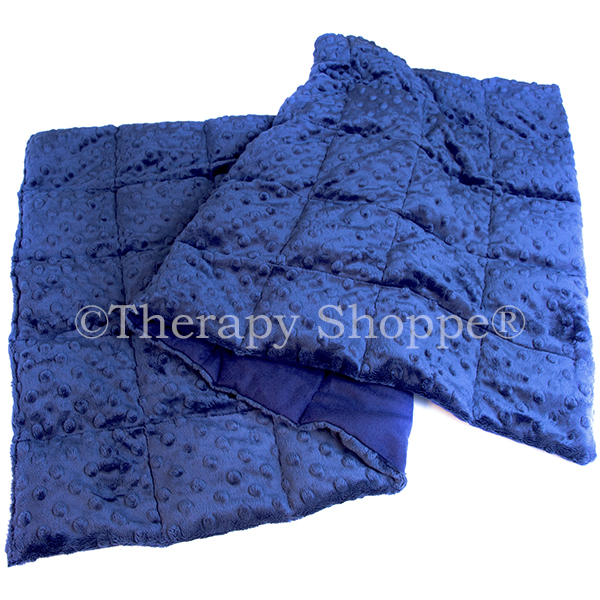 Gorgeous glittery gel shapes filled with colorful (or clear) gel and tiny sparkling stars. Magical, calming sensory tools that are wonderful for squishing, squeezing, and kneading sensory input. Soothing senational sensory tools!

12. Scented Furry Sensory Squares
Fabulous tactile sensory fidgets! Our exclusive 3-1/2" Furry Sensory Squares are made of sensationally texturey furry fabrics and are scented with calming lavender or focusing mint. They look, smell, and feel amazing! Designed for gentle fidgeting, snuggling at bedtime, or for tucking inside your desk, backpack, purse, or under your pillow. A Therapy Shoppe® exclusive. *Please note these contain flax.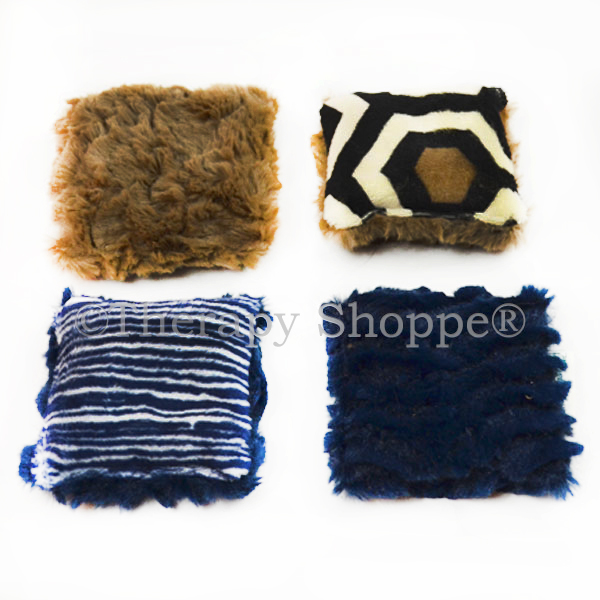 13. All-Natural Essential Oil Sprays
Made of pure essential oils, these handy 2.7 oz. aromatherapy spray pump bottles come in 3 amazing calming scents: Lavender, Peppermint, or Spice (a delightful new scent that smells like cinnamon and cloves). These all-natural, Essential Oil Sprays are gentle, safe, and contain no harmful ingredients. A simple and safe way to help reduce stress and anxiety.
14. Finger Labyrinth Tracing Cards
There's no beginning, no end.... no right or wrong way to trace these wonderfully mind-relaxing finger labyrinth cards... just a delightfully peaceful way to relax and unwind, while engaging your fingers and mind. Use your finger or the included stylus (or try it just using your eyes) to trace 10 different soothing designs. Up the challenge by switching hands and tracing with your non-dominant hand. Or REALLY exercise your brain and eyes by tracing 2 different cards at the same time! An exclusive Therapy Shoppe product available only from us. Includes a special stylus.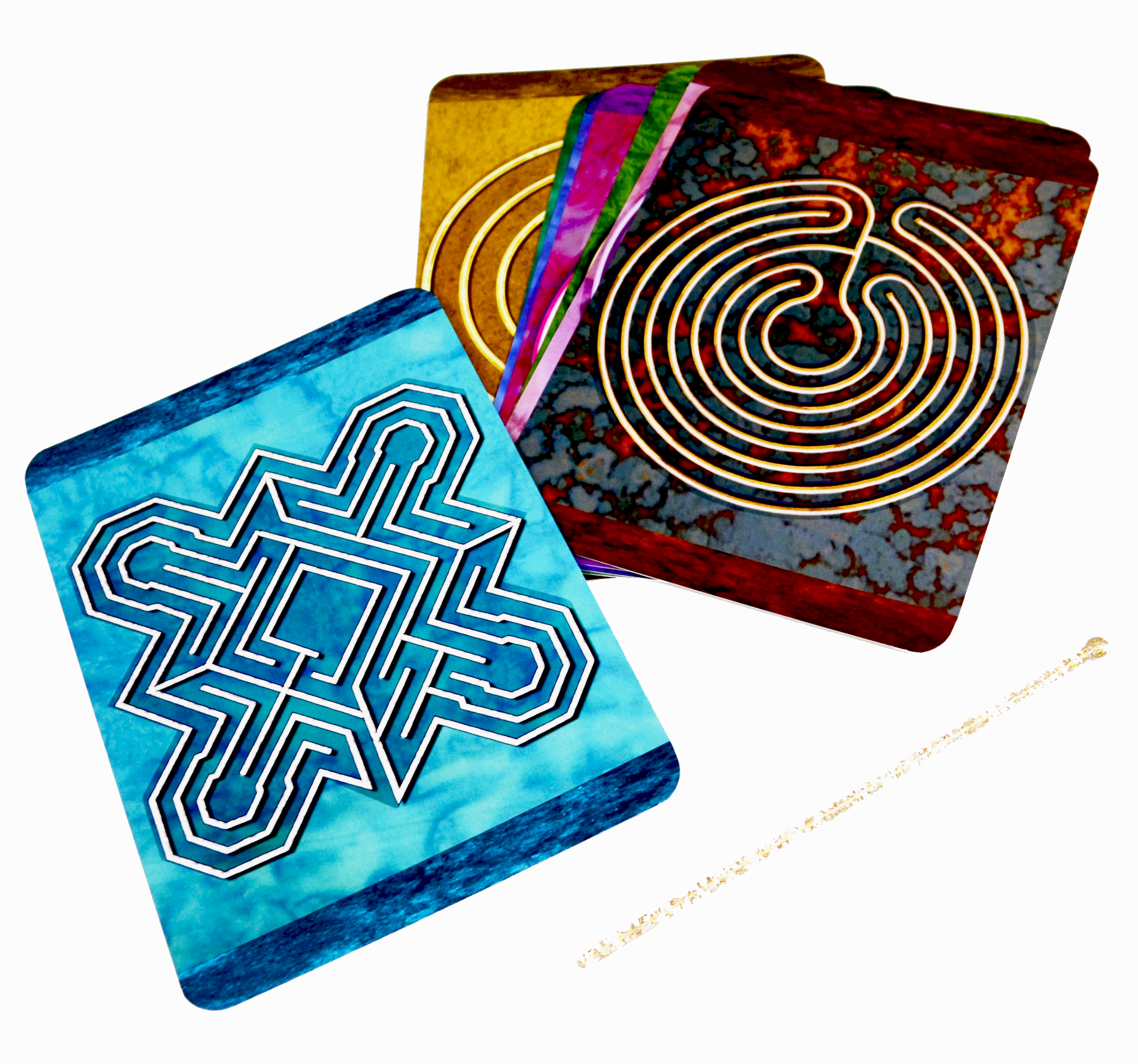 15. Weighted Lap Pads with Fleece Covers
These discreet weighted lap pads are a wonderful self-regulation tool and include a snuggily soft, washable fleece cover! Made of premium, water-resistant nylon, these exclusive Therapy Shoppe® lap pads feature a unique quilted-design that assures even weight distribution and maximum therapeutic benefits. Surface washable.

These amazing little sensory seats "cradle and rock" the user, providing the user the perfect combination of self-regulating sensory input. HowdaHugs are adjustable, legless seats, made of wooden slats, and colored canvas that create a snuggily embrace around bodies; providing a wonderfully calming, hugging sensation and gentle rocking input that has a calming, focusing effect for most individuals. Comes in 3 sizes for preschoolers to adults. Wonderful!

Our unscented 4.5 lb. weighted shoulder wraps provide calming deep pressure input as they hug your shoulders. They come in your choice of 2 beautiful fabrics that have snuggily soft fleece on one side, or in a true wipe clean reversible fabric that can be sanitized on the spot with antibacterial wipes or spray.
Now's the perfect time to "adopt" a new family pet! Absolutely adorable, snuggily soft kittens, puppies, turtles, panda bears, lambs, monkeys, hedgehogs, dinosaurs, elephants, snakeys, and more. Our irresistible plush weighted pet family includes scented animals, fluffy, furry, sequiny, scaley, and unscented friends for those sensitive to smells. Get ready to fall head over heels in love!

19. Mop Top Squishy Stress Balls
Adorable little 2" smiley stress balls that have a head full of fluffy yarn hair and double as a fun little screen cleaner for all of your electronic devices! These silent sensory fidgets are terrific for squeezing all your anxiety away while exercising /strengthening your fingers. The perfect pocket-sized desk toy fiddle for homeschoolers, the office, and makes a much loved gift for mom or dad on Mother's and Father's Day.

20. Thinking Putty

Thinking Putty is like chewing gum for your fingers! We have dozens of fabulous choices you can choose from: Scented (bubble gum, pizza, carmel corn, orange cream, berry vanilla, chocolate), Unscented, Glow-in-the dark, Shimmery, Glowing, Unicorn Putty, Crystal Clear putty that looks like liquid glass, and even a Thinking Putty Kit where you create your own amazing blends.... Fun, entertaining, and a soothing stress buster for those who need a simple way to help decrease their cabin fever.
21. Squishy Gel Bead Fidget Squares
Gorgeous 4" fidget squares with 100's of tiny squishy squeezy colored gel beads inside. Minds relax and fidgety fingers stay busy for hours squashing, kneading, and squeezing these neat stress-reducing tactile fiddles that can be chilled, too.
This medium resistance sensory putty is scented with pure essential oils and comes in 3 amazing scents: Lemon, Mint, and Lavender. Makes a great stress-relieving, self-regulation tool for keeping restless fingers happily engaged and slowing overactive minds. Lavender is very calming and relaxing; Lemon is refreshing and can help reduce anxiety/stress. Mint (while calming for many individuals) can also be alerting and energizing; nice for increasing focus and concentration.
These "scratchy" silent tactile fidget tools feature an enclosed marble you slide back and forth, keeping fingers happily engaged and minds/bodies more relaxed. Boinks Marble Fidgets make the perfect, pocket-sized calming fidget tool for homeschoolers or skin pickers, and are a nice 'n subtle fidget for the office.
24. Sensory Stones
Feel your anxiety, worry, and tension melt away as you knead one of these silky smooth stones between your thumb and fingers. Sensory Worry Stones are a calming nature fidget tool that can help you feel more relaxed and able to focus better. These pocket-sized fidgets are wonderfully subtle; the perfect size to tuck inside a purse, backpack, car cup holder, or to keep in your glove box.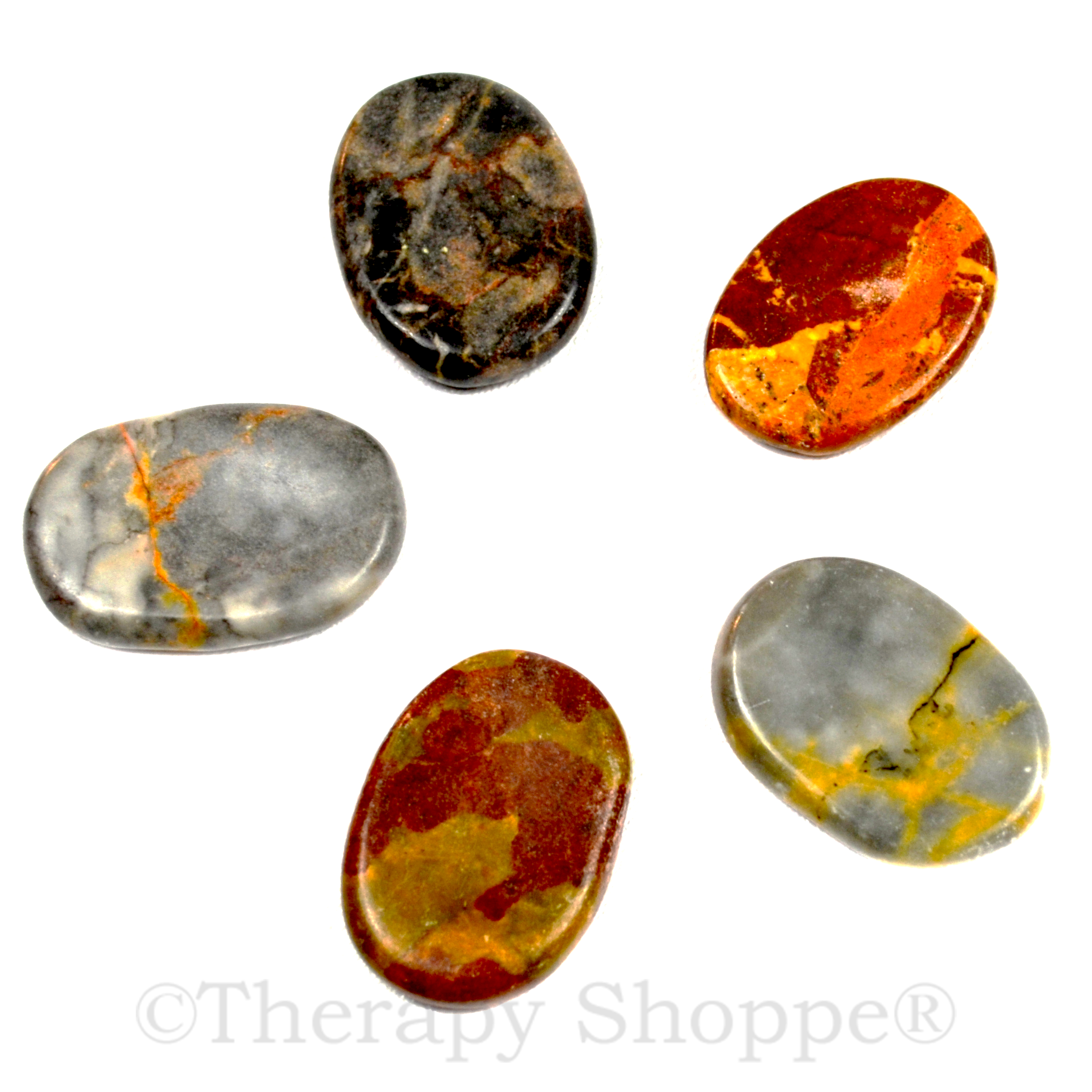 25. Globby Guy
Our cool little grouchy-face Globby Guy is awesome for taking away some of your stress and frustration! This squishy, squashy squeezy 5" rubbery dude can be stretched, posed, gently pinched, and flattened into tons of fun, stress-busting ways. Designed for teens and adults, but not overly rough use or he might burst. *Contains latex.

For more helpful information about managing stress and anxiety, read our other exclusive Therapy Shoppe articles:
"Activities That Can Decrease Anxiety and Help Children Cope"
"25 Favorite Stress Reducing Fidget Tools"
"21 Favorite Tools for Compulsive Skin Pickers (Dermatillomania)"
"21 Fidget Toys for Compulsive Hair Pullers (Trichotillomania)"