Fall is in full swing here in Michigan and it's color tour time ... Time to go see all those leaves that have turned into magnificent kaleidoscopes of browns, oranges, and reds! Several ski resorts are offering scenic chair lift ride color tours, and a few even offer zip-line color tours! Gorgeous wreaths, pumpkins, and nature-themed decorations can be found on porches/doors/fences, and cute pumpkin-themed Halloween decorations in so many front yards! Fall is the perfect time for outdoor family fun! Here are some ideas to get you started ...

Apple and Pumpkin Picking

This classic fall activity provides great learning opportunities for kids. Use apple picking to teach children about identifying colors, shapes, counting, and healthy eating. It's also a fun way to improve fine motor skills, bilateral coordination, postural stability, and strength (core, upper extremity, and finger strength) while enjoying the great outdoors and soaking up some Vitamin D! Visiting your local pumpkin patch, and having kids pick and carve their own pumpkins – provides great ways to provide deep pressure (proprioceptive) and tactile sensory input.

If the weather doesn't cooperate or your child has trouble tolerating public areas (or if there are too many people to distance family members if needed), you can create an indoor version by making a duct tape "tree" on your floor and laying apples on it for your child to "pick." Use bins, large bowls, or baskets to sort the "picked" apples. Another fun visual motor, finger strengthening, sensory input activity idea is to practice "bobbing" for apples using your bare hands, plastic beach shovels, tongs or even our Mini Bilibos (which make great little "scoopers"). Make and stuff your own pumpkins using coloring (paper) lunch bags and filling them with scrunched up styrofoam noodles, tissue or newspaper, or packing materials (scrunching and stuffing are other fun activities for building fine motor and bilateral skills).

Create Fall-Themed Sensory Bins
Give this fun sensory activity an autumn twist! Create colorful custom fall-themed bins using leaves, acorns, pinecones, chestnuts, mini pumpkins, corn, and other fall-themed treasures from nature to make seasonal sensory bins kids won't be able to resist! Click here for specifics and directions about the many benefits of sensory play and how to make your own sensory bins.

Raking and Jumping into Big Piles of Leaves
Playing in leaves offers many wonderful sensory input benefits. There are so many fun sensory activities you can do with leaves right in your own yard:
– Create "obstacle courses" where your child has to jump over, crawl into, or walk around different leaf piles. Obstacle courses can be wonderful for providing vestibular, tactile, and proprioceptive input that can be so calming and organizing for many children – and nice 'n alerting for others!
– Work on counting, sorting, and matching by having kids sort leaves into piles based on colors, shapes, or texture.
– Have your child practice raking leaves and scoop them into bags for more deep pressure, tactile, vestibular, and proprioceptive input.
– Tear and crumple up some leaves to create fall confetti – then have fun throwing it into the air!
– See how far up you can throw a single leaf into the air and watch it float down. The possibilities are endless and everything you need is free!
Play Tactile Skill-building Games (using fall-theme treasures)
This "Guess What" activity is great for building tactile discrimination skills. Gather a variety of paper bags (or boxes with lids) and fill each one with a different fall-themed object. Have your child reach into each bag and see if they can figure out what objects they're touching (without looking). Turn this activity into a friendly competition by numbering each bag and writing your guesses down before revealing the contents inside! Use things like pinecones, acorns, chestnuts, leaves, corn, pumpkins, straw, pumpkin "guts," apples, or twigs. A sleep mask or silky scarf make nice blindfolds to encourage children to do this activity without using their vision. A great activity for "sensory kiddos" who rely on vision to know where their hands are/what their hands are doing.
Visit a Corn Maze (or create your maze own at home)
Corn mazes helps children improve their memory and problem-solving skills, spatial awareness, and is can be a great family bonding activity that gets everyone moving! If you prefer staying home, you can create your own DIY version of a maze using chalk, pumpkins, hay, cardboard, or other fun materials you find around the house. You can add an extra layer of challenge to this activity by hiding items throughout the maze for your kids to retrieve or setting a timer to see how quickly your family members can finish the maze.
Leaf mazes can be just as fun and provide a wide variety of therapeutic benefits through the raking and creating piles of leaves that are required (deep pressure proprioceptive sensory input, visual motor, motor planning, upper extremity strengthening, bilateral coordination skills, etc.)
Corn Cob Play
Here's a fun and addictive sensory activity that's a huge hit with (most) children and others who like to pick! Using your fingers to pick individual corn kernels off of calico-colored (dried out) Indian/Maize Corn provides a mesmerizing way to build finger dexterity and fine motor skills. Husking corn is another activity for developing hand/finger strength, motor planning, and 2-handed bilateral coordination skills (that are important for most activities of daily living like eating, dressing, bathing, manipulating fasteners and small tools, writing, and more).
Outdoor Scavenger Hunt

This can be a simple as providing a short verbal list of 4 to 5 items to search for (ie: an orange colored leaf from an oak tree, a pinecone, a bug, and the top part of an acorn) – or gluing a visual list of items to a lunch or Ziploc bag. Switch it up and let your kids come up with a list of items for you to find.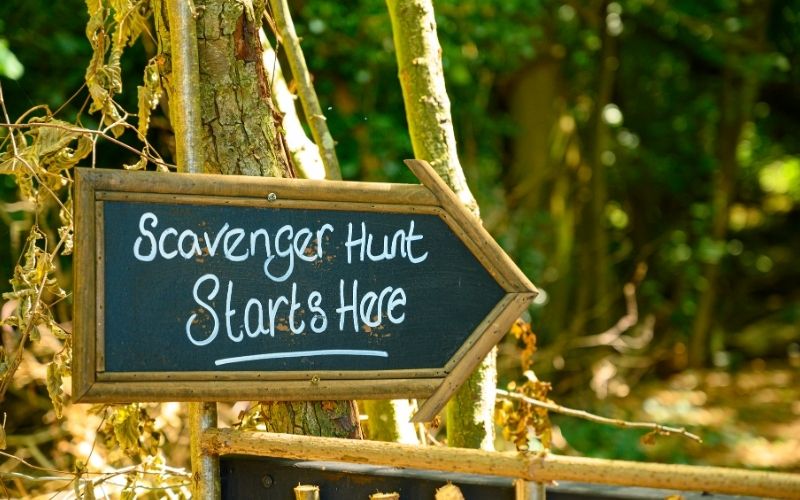 Campfires, S'mores and Star Gazing
Fall is the perfect time of year for backyard campfires, roasting marshmallows, make yummy s'mores, and soaking up the beauty of a star lit night. Use night time to teach kiddos about constellations and satellites that light up the night.
Here's a wonderful S'mores "hack": Use round fudge stripe cookies (the kind that has the finger hole in the middle) to make s'mores (vs. graham crackers and pieces of chocolate bars). It's quicker, not as messy, less pricey, and way easier for little hands to hold and keep their s'mores together so the sticky marshmallows don't leak out!
Most of all, be sure to remember to give thanks and be grateful for all the special time your family spends together and for the treasured memories being made with your loved ones! It's quality time you spend together as a family that means the most to kids.

With lots of love from our family to yours,
– The Therapy Shoppe OTs 💗
©2020 Therapy Shoppe® Incorporated. All rights reserved.